Woman on road near Kendal hit and killed by several cars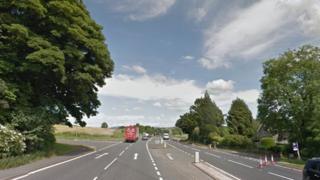 A woman has died after being hit by a number of cars while she was walking along a road near Kendal.
The woman, who is believed to be in her 30s, was struck on the A590 near Heaves Hotel at about 19:30 GMT on Tuesday.
Cumbria Police said a man had also been walking with her along the eastbound carriageway.
Officers said the pair were wearing dark clothing and investigators are appealing for witnesses to come forward.
Cumbria Police said the pair were previously walking on the A6 towards Kendal from Milnthrope before the accident on the A590.