Cumbria Police acting chief constable accused of misconduct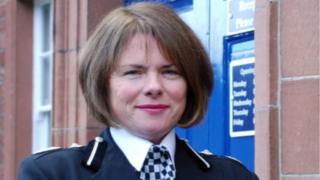 A police boss criticised over the Poppi Worthington death probe is being investigated after a complaint of misconduct.
Acting chief constable of Cumbria Police Michelle Skeer is accused of "acting inappropriately" by dealing with a complaint involving her husband, who was a police officer.
The police watchdog, the IPCC, ordered the inquiry be handed to another force.
Mrs Skeer described the allegations as "outrageous and inaccurate".
The complaint was made by a member of the public who is remaining anonymous.
Mrs Skeer says the matter is being looked at by Northumbria Police, which she says is standard practice for chief officers.
She told BBC Radio Cumbria: "There is a public complaint. I'm not being investigated for corruption or misconduct in office and that's what I'm saddened and quite outraged about to be perfectly honest."
In a statement released by the force, she said: "I would also like to clarify that there has not been a public complaint made against my husband, retired detective inspector Jim Skeer.
"It is important for this complaint process to take it course. Once this has been resolved then the full details will be published and I will speak further at this point."
Mrs Skeer was deputy chief constable during the force's investigation into 13-month-old Poppi's death in Barrow-in-Furness in 2012.
Cumbria Police was criticised by a family court judge for the way it investigated the case.
Mr Justice Peter Jackson said there had been no real investigation into the toddler's death for nine months.
'Question of competence'
The inquiry was under way when Mrs Skeer was promoted in December to cover Chief Constable Jerry Graham, who is on sick leave.
Cumbria's Police and Crime Commissioner (PCC) Richard Rhodes told BBC North West Tonight he knew Mrs Skeer was under investigation when he promoted her.
He said he did not ask for details about the allegations and insisted this was "normal procedure".
Mr Rhodes said: "The deputy was invited to step up. Now, why should I do anything else?
"If you've got a deputy, you trust the deputy, and in a temporary situation you invite her to take that job."
Barrow MP John Woodcock said: "The revelations here are extraordinarily serious.
"Both for the fact that Michelle Skeer was allowed to take over the force, but also I have to say for the judgement of the PCC for apparently allowing this to happen and not asking the basic question of what the allegations were about over which she was being investigated by another force.
"To know that someone was under investigation and to not ask the question why, I'm afraid it does raise a basic question of competence and whether this was a negligently discharged decision."
Although Mrs Skeer is under investigation, nothing has been proved.