Bus service for passengers stranded by A591 collapse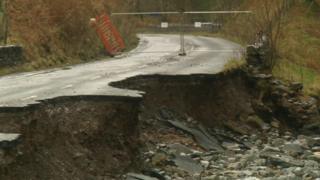 A shuttle bus service is being put in place to help passengers stranded after the collapse of a major road during Storm Desmond.
A four-mile section of the A591 between Keswick and Grasmere remains closed after it was damaged in a landslide.
Cumbria County Council said it had upgraded a forest road at Dunmail Raise which is wide enough for a small bus but not general traffic.
A spokesman said the service would begin on Tuesday.
A spokesman said there would be a park and ride service with pick up points at Keswick, Legburthwaite and Grasmere.