Cumbria art auction raises £12,000 for Storm Desmond victims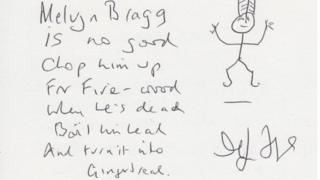 The sale of more than 100 artworks at auction have raised £12,000 for Cumbrian flood victims.
The Love Cumbria event at the Halston Aparthotel in Carlisle on Thursday was expected to raise £10,000 for those affected by Storm Desmond.
Volunteer Amy Walker said it was "amazing" to see so much "support and generosity" from across the county.
All the money will go to Cumbria Community Foundation's Floods Recovery Appeal which currently stands at £5.5m.
The collection included a poem called Melvyn Bragg Is No Good by the renowned broadcaster and novelist, along with a postcard from actor Sir Tony Robinson, which collectively raised £70.