Melvyn Bragg pens 'quirky' poem for Cumbria flood auction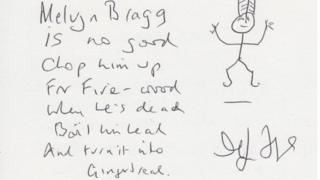 More than 100 artworks including a poem by renowned broadcaster and novelist Melvyn Bragg are to be auctioned to raise money for Cumbrian flood victims.
Event organiser, Karen Jones, said she loved Lord Bragg's contribution on a postcard, a "quirky, off-the-wall" poem, called Melvyn Bragg Is No Good.
She said she hoped the collections, including sculptures, would raise £10,000 for victims of Storm Desmond.
The event takes place at the Halston Aparthotel in Carlisle, on Thursday.
Organised by Love Cumbria, all the money raised will go to Cumbria Community Foundation's Floods Recovery Appeal.
Bragg's self-deprecating poem says he should be "chopped up for firewood" or made into "gingerbread".
Ms Jones said: "We weren't expecting anything like this from Melvyn Bragg, but were were delighted - it is very quirky, light-hearted and off-the-wall.
"What's nice is that a lot of work has been generated from people who are artists as a second career, and that have either been affected by the floods directly or indirectly.
"There's some incredible artwork - 2D works, 3D works and glass."
Bragg, who was brought up in Cumbria, is best known for the arts programme the South Bank Show and has written 22 novels as well as numerous works of plays and film scripts.
In 1998 he entered the House of Lords as Lord Bragg of Wigton.