Jordan Watson murder: Two men found guilty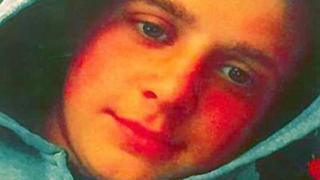 Two men have been found guilty of murdering a Carlisle teenager.
Jordan Watson, 14, was found dead under a blood-stained tree in Upperby Cemetery in Carlisle on 15 June.
After a four-week trial, a jury at the city's crown court returned unanimous guilty verdicts against George Thomson and Brahnn Finley, both 19 from Carlisle.
The jury will resume deliberations for the third defendant, Daniel Johnston, 20, from Carlisle, on Monday.
All three previously denied murder.
The trial heard Thomson was infatuated with Jordan's then 14-year-old girlfriend and that he would "kill anyone for her".
He was obsessed with knives and a cache of almost 70 weapons was found at his home, including a blood-stained Gurkha knife, Jurors heard.
The prosecution said Jordan was subjected to a "brutal and sustained attack", which left him with "terrible injuries" to his head and neck.
It is alleged Brahnn Finley and Mr Johnston were present during the murder and there to "lend support" to Thomson.