Jordan Watson murder: Closing speeches heard at trial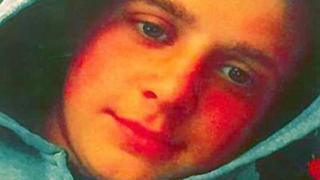 The jury in the trial of three men accused of murdering a teenager has been told how "infatuation" with a girl by one of the men was behind the death.
Jordan Watson, 14, was found dead under a blood-stained tree in Upperby Cemetery in Carlisle on 15 June.
In closing statements, prosecutor Simon Medland QC said George Thomson was obsessed with Jordan's girlfriend.
Mr Thomson, Brahnn Finley, both 19, and 20-year-old Daniel Johnston, all from Carlisle, deny murder.
Mr Medland told Carlisle Crown Court: "It festered and festered and despite all George Thomson's efforts to get her to drop Jordan it didn't work.
"It ended with the murder of the one person who stood in his way, because nothing else worked."
He described Mr Thomson as "obsessed with knives" and reminded jurors of the 67 weapons weapons seized from his bedroom which were previously displayed in the courtroom.
He said: "The truth is that George Thomson and Brahnn Finley and Daniel Johnston were all involved, not just Thomson - but were all three involved in the murder of Jordan Watson."
'Not intellectually gifted'
Defending QC Benjamin Myers asked the jury to "keep an open mind" when considering their verdict.
He told the court none of the evidence put George Thomson in the cemetery and said there was no evidence of him leaving his home that night.
Previously, the jury was told a search of Mr Thomson's home revealed a blood-stained Gurkha knife and a large collection of weapons.
Mr Myers urged the jury to consider the Gurkha knife found under Mr Thomson's bed and said it would be "stunning" that it was left under his bed if that knife had been used.
Andrew O'Byrne QC asked jurors "not to rush" judgement over Brahnn Finley - he said he was "not intellectually gifted, but not being overly bright does not make you guilty of murder".
Gordon Cole QC told the court Daniel Johnston was not in the cemetery when Jordan was killed.
Commenting about his silence during police interviews, he denied he was "trying to fit his story around the evidence" and was in fact responding to his legal advice.
Mr Thomson, of Upperby Road, Carlisle; Mr Finley, of Furze Street, Carlisle, and Mr Johnston, of Petteril Bank Road, Carlisle, all deny murder.