Furness General Hospital A&E visits 'could have been avoided'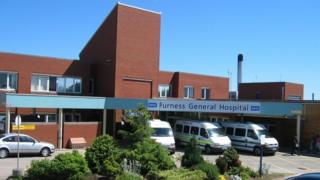 Nearly 40% of A&E visits to a hospital in Cumbria "could have been avoided", a study has found.
The University Hospitals of Morecambe Bay NHS Foundation Trust assessed patients at Furness General Hospital in Barrow to test out a new model of emergency and urgent care.
The trust found 52 out of 133 patients could have been treated elsewhere.
The trust said patients needed to think about where else they could be seen to avoid the pressures on A&E departments.
The study also found between October 2015 and January 2016, emergency arrivals at Furness General Hospital increased by almost 11% compared with the same period the previous year.
Barrow GP Dr Geoff Jolliffe said: "The whole system is under pressure. Too many people don't know which part of the NHS to go to for help, so they go to the part that is easiest to access like A&E.
"We need to help people understand the best place to get the help they need so that the whole system works more efficiently."
It is hoped the findings will help in the development of other ways of managing patients who attend A&E at Furness General Hospital and the Royal Lancaster Infirmary, the trust said.