Rod Stewart donates £10,000 to Carlisle United after Desmond flood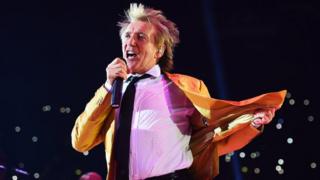 Singer Rod Stewart is donating £10,000 to Carlisle United to help the club recover after recent flooding.
Carlisle's media officer Andy Hall said Stewart's representatives contacted him this week to make the offer.
Their stadium, Brunton Park, was heavily damaged by flooding from Storm Desmond in December, with the team forced to play away from home for weeks.
The musician, a Celtic fan, is due to perform at the stadium in June.
Mr Hall told BBC Cumbria: "To us it's a measure of the man. He's been fantastic to work with since day one when they came to do a reconnaissance of the stadium to see if he could play a concert here.
"For someone internationally renowned to help us puts smiles on faces."
The announcement came as Carlisle United host Everton in the FA Cup.
It is the club's second game back at Brunton Park since the stadium was flooded.
Mr Hall said fans were pleased to be back.