Jordan Watson murder trial: Jury told of weapons collection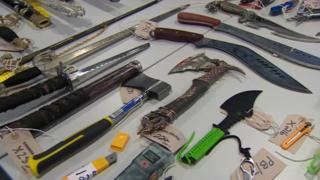 Dozens of weapons were recovered from the home of one of three men accused of murdering a teenager, a jury has heard.
Jordan Watson, who was 14, was found dead under a blood-stained tree in a Carlisle cemetery on 15 June.
George Thomson, Brahnn Finley, both 19, and 20-year-old Daniel Johnston, all from Carlisle, deny murder.
Carlisle Crown Court was told throwing knives, flick knives, Gurkha knives and a machete were found in Mr Thomson's bedroom.
Swords, cross bows, air rifles and a stun gun among the 67 items retrieved from his home, the jury heard.
The judge, Mr Justice Green, warned the jury to be aware that many young men collected knives but did not commit murder.
Earlier in the trial, the court was told that Jordan had suffered at least nine deep wounds to his head and neck which were likely to have been caused by a sharp-bladed instrument.
It also heard that Mr Thomson had an "obsessive desire" for Jordan's girlfriend and wanted to "get him out of the picture".
The trial of Mr Thomson, of Upperby Road, Mr Finley, of Furze Street, and Mr Johnston, of Petteril Bank Road, continues.