Jordan Watson murder trial: Suspect's DNA 'on knife'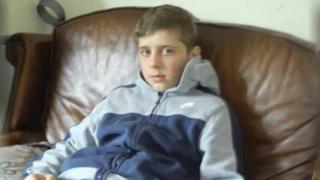 A knife found underneath the bed of one of three men accused of murdering a Carlisle teenager could have been used in the attack, a court has heard.
Jordan Watson, 14, was found dead in Upperby Cemetery in June.
George Thomson, Brahnn Finley, both 19, and 20-year-old Daniel Johnston, all from Carlisle, deny murder.
Carlisle Crown Court heard DNA from the victim and from Mr Finley was found on a Gurkha knife recovered from the Mr Thomson's home.
Forensic scientist Martin Beal told the court there was also a weak bloodstain on the knife, but it was not possible to identify who it was from.
He said he could not definitively say it was the murder weapon, but he could not rule it out.
Home Office Pathologist Dr Alison Armour told the court that Jordan had suffered at least nine deep incised wounds to his head and neck which were likely to have been caused by a sharp bladed instrument.
There were also wounds to his hand, injuries associated with self defence.
The trial continues.