Jordan Watson murder: Jury hears accused claimed to be hit-man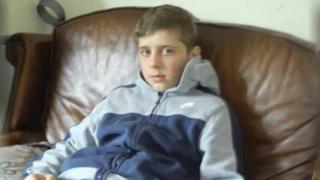 A man accused of murdering a 14-year-old boy in a Carlisle cemetery, was a "fantasist" who claimed he was a gangland hit-man, a jury has heard.
Jordan Watson's body was found under a blood-stained tree in Upperby Cemetery on 15 June. He had suffered a "brutal and sustained attack".
Carlisle Crown Court heard George Thomson, then 18, boasted he earned thousands of pounds from gangland hits.
He and co-defendants Brahnn Finley, 19, and Daniel Johnston, 20, deny murder.
A work colleague of Mr Thomson, who cannot be identified, told the court the now-19-year-old said he had killed three people on behalf of gangs in Manchester and had once been shot himself.
He said he considered Mr Thomson to be a "fantasist who made up stories".
The witness also claimed that the day after the murder, he saw Mr Thomson trawling news websites looking for details of Jordan's death and pumped his fist every time he came across an item.
'Screams of fear'
The prosecution claim Mr Thomson carried out the murder because he was obsessed with Jordan's 14-year-old girlfriend and wanted him "out of the picture".
The court also heard from a woman who said she heard "screams of fear" on the night Jordan was murdered.
Patricia Smith, who lives near the cemetery, said she heard the "high-pitched" screams as she lay in bed with a window open.
She said she heard three screams in total, with the final one lasting about 15 seconds.
Earlier, the court was told that during a police search of Mr Thomson's Carlisle home they recovered a blood-stained Gurkha knife and a collection of other weapons, including a machete and a cleaver.
Also found were a number of letters written by Mr Thomson declaring his love for Jordan's girlfriend.
The prosecution allege Mr Thomson's co-defendants were present during the murder to "lend support".
Mr Thomson, of Upperby Road, Carlisle; Mr Finley, of Furze Street, Carlisle, and Mr Johnston, of Petteril Bank Road, Carlisle, all deny murder.
The trial continues.