Cumbria flooding fund hands out £1m in aid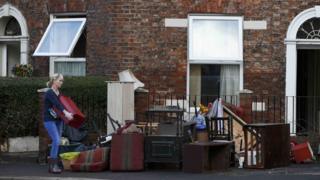 An appeal set up to help people in Cumbria affected by floods in the wake of the December storms has handed out donations totalling £1m.
The Cumbria Community Foundation said the money has helped 1,300 families.
The grant that took the trust past the milestone went to wheelchair user Keith Watson, who was rescued from his Keswick flat.
Almost £5m, including £1m from the government, has been raised towards the foundation's overall target of £6m.
Anyone who has suffered financial hardship is eligible to apply for a grant, and more than half the money allocated so far has gone to people who did not have insurance.
Mr Watson, 33, was awarded £1,250. Had he not been rescued from his flat, he fears he would have drowned.
He said: "I have lost all my furniture and almost all my belongings. I got out with just a bag containing a change of clothes and my phone."
The flood recovery appeal was launched on 5 December and £1m was raised in five days.
Areas across the county were deluged as heavy rain fell and thousands of homes were affected.
Properties in Carlisle were evacuated, while the village of Glenridding suffered three floods in as many weeks. Keswick and Appleby were also badly hit.