Pooley Bridge collapse: £300,000 temporary crossing approved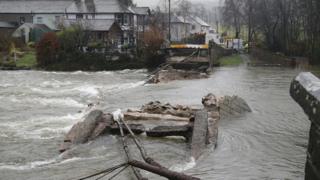 A temporary river crossing to replace a 300-year-old Cumbrian bridge, which collapsed during Storm Desmond, will be in place by Easter, officials say.
The structure, across the River Eamont in Pooley Bridge, was washed away by floodwater in December, effectively cutting off the village from the south.
Cumbria County Council has confirmed a temporary bridge is to be brought in at a cost of almost £300,000.
Funding will come from a promised £40m government aid package.
A council spokesman said planning was under way for a permanent replacement, although no construction date had yet been set.
'Iconic location'
Leader Stewart Young added: "Pooley Bridge has been a priority since the floods.
"The impact on the local community, businesses and the wider Lake District has been significant and we want to ensure Pooley Bridge is fully open for business as soon as possible.
"Looking to the future, Pooley Bridge is one of those iconic Lake District locations, so getting the design for the permanent replacement right is important."
Transport Secretary Patrick McLoughlin said: "Reconnecting the two sides of the village will make a massive difference, particularly to local businesses in this tourist hot-spot.
"We've worked closely with the county council to make sure the funding is available to allow this to happen and we'll now be switching our focus to plans for the permanent replacement."