Flood-hit road being used by 'irresponsible' people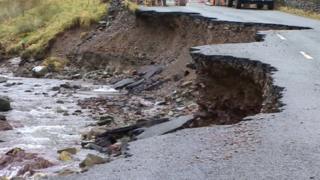 People have been "effectively forcing" their way on to a closed, flood-damaged road, a council has said.
Walkers and cyclists moved fencing on the collapsed A591 at Thirlmere, Cumbria and ignored instructions from security and council staff.
Some went past heavy machinery still working to remove fallen trees and tonnes of debris from the site, Cumbria County Council said.
A spokesperson called it "extremely irresponsible" behaviour.
'Criminal offence'
"To have people think it is OK to ignore council staff and go 'sightseeing' along the road is baffling," the spokesperson said.
"This kind of action constitutes a criminal offence and we will take action if it is required."
The road was damaged during Storm Desmond in December.
People still using are putting their own safety at risk and wasting the time of council staff, the authority said.
Reports suggesting there was to be a temporary road connection along the full length of the eastern side of the reservoir, above the existing road, are incorrect, the council added.
The temporary road will only bypass the collapsed section of road on Dunmail Raise, allowing a connection to the western shore road.