Cumbria mountain rescuers on standby for flood clean-ups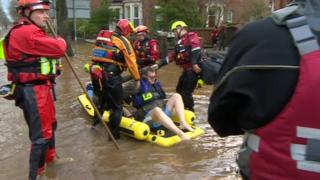 Cumbria mountain rescue teams have prepared for further flood relief as the clean-up and repairs continue.
After helping in the county volunteers travelled to Lancashire, Manchester and Yorkshire throughout December.
Teams across the Lakes were dried out, up to full strength and ready to help again if needed, Cockermouth's team leader Mike Park said.
"We've certainly had our passport stamped around the country in the last month," he said.
Volunteers had been to "wherever the help was needed" despite some having their own houses flooded.
"We don't want to go out again at all - it would be nice to actually go and take a few people off the hills, that would be nice," Mr Park said.
Meanwhile, donations to the county's flood recovery fund have reached £4m.
Cumbria Community Foundation chairman Ian Brown said the appeal target was £6m and "it'll all be needed".
"The donations are coming from literally all over the world," he said.
The south Cumbria flood relief centre in Kendal, which has been handing out donations of food, cleaning products and toiletries, will re-open on Tuesday.
Plans for children to access schools via the flood-damaged A591 at Dunmail Raise have had to be changed after a further section collapsed.
Cumbria County Council highways cabinet member Keith Little said the situation was "challenging".
"There's a reason major road building is rarely done in winter," he said.
Engineers were working to "reconnect the north and south" of the county.
A number of flood alerts and warnings were still in place across the region on Friday, though there were no Met Office warnings of imminent severe weather in the county.
Braithwaite resident Paul Barnes said on Wednesday they were "laughing" once they knew the danger from the river had passed.
"Once it starts dropping and the wind changes up the top, so you can feel it blowing, you know the storm's clear," he said.
"We'll have a party," he said. "No carpets, but we've got some cheese and onion crisps."