Honour for legendary guitar maker Roger Bucknall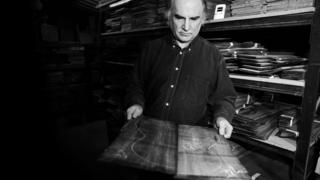 A man who has made guitars for a string of stars including Rolling Stone Keith Richards has been recognised in the New Year Honours list.
Roger Bucknall has been made a Member of the British Empire for services to guitar making and music.
The 65-year-old still handcrafts the acoustic instruments at his workshop in Penrith, Cumbria.
He has also made instruments for singing stalwarts Bob Dylan and Sting. He said the honour "felt a bit weird".
He began making guitars professionally in 1973, when he realised the only guitars musicians seemed to be playing were made in the US and Eastern Europe.
He and his small team has crafted more than 10,000 instruments over four decades.
'Buy them a drink'
He said he had found out who started the campaign to have him honoured and he would "buy them a drink".
"It was a shock. It's still a bit weird. A lot of my customers have supported me and I have found out who started it", Mr Bucknall said.
"They can buy me a drink and I will buy them one. It's great - I'm going to enjoy it".
Oldham businessman Norman Stoller CBE, who turned his father's tubular bandage-making business into a massive employer, has received a knighthood for services to philanthropy.
The 81-year-old who now lives in Bowness, set up the Stoller Charitable Trust, a grant-making charity to help young people finance their education and training.
He said his work was all about the act of "giving" and he took great pleasure from tiny sums, such as £250, making a difference to people's lives.
He also said it would be a real honour being Sir Norman.