Bus service for passengers stranded by A591 collapse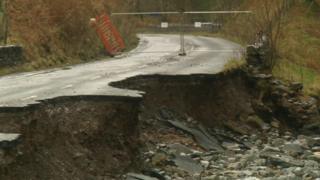 A shuttle bus service is being put in place to help passengers stranded after the collapse of a major road during Storm Desmond.
A four-mile section of the A591 between Keswick and Grasmere remains closed after it was damaged in a landslide.
Cumbria County Council said it was upgrading a forest road at Dunmail Raise which would be wide enough for a small bus but not general traffic.
A spokesman said the service would initially be used by school pupils.
There will also be a temporary pedestrian and bicycle route over Dunmail Raise to the junction with the minor road around the western shore of the reservoir.
This new link will connect with the shuttle bus on the Thirlmere side to and from Keswick, the council said.
A spokesman said there would be a park and ride service with pick up points at Keswick, Legburthwaite and Grasmere.