Seascale motorcyclist Scott Dores's body found in stream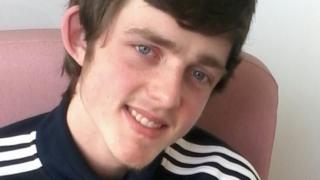 The body of a teenage motorcyclist has been found in a stream after his bike was seen at the roadside.
Scott Dores was found dead at Keyhow, between Santon Bridge and Eskdale Green, at lunchtime on Saturday.
His Yamaha bike was spotted at the side of the road by police community support officers and his body at the bottom of a hill.
Elsewhere in the county, an 82-year-old man died after being struck by a vehicle in Penrith town centre.
Lawrence Cherry from Champion Way, Penrith, was hit on King Street at about 23:00 GMT and taken to Carlisle's Cumberland Infirmary but later died. The driver of a Volkswagen Golf, a man aged 22, was not injured.
Mr Dores's family said in a statement: "It is with great sadness that Scott has so tragically been taken from us. He was a much loved partner to his fiancée, Holly, and doting dad to Connie Mae.
"He was a lifelong Norwich supporter and enjoyed being creative in his job as a chef. He will be sorely missed by all that knew him and he will never be forgotten."
Mr Dores had been reported missing on Friday after failing to turn up for a shift at work. Officers conducted a search of his usual route.
No other vehicles were involved in the crash.