Storm Desmond: Eden Bridge reopens to all traffic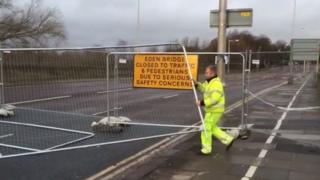 A crucial flood-hit road bridge in Carlisle has reopened to all traffic.
Eden Bridge - which links the two sides of the city - has been shut since Storm Desmond brought a record amount of rainfall two week's ago.
Hundreds of properties were flooded and roads and bridges damaged or destroyed.
There were fears Eden Bridge had suffered structural damage, but following an underwater inspection by divers, it has now been declared safe for pedestrian and vehicle use.