Thousand-tonne nuclear sub part driven through Barrow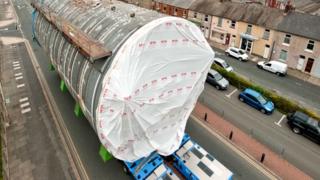 An enormous, 1,000-tonne nuclear submarine part brought traffic to a standstill while it was slowly driven through a Cumbrian town.
The cylindrical unit is the heaviest ever moved by technology and defence giant BAE Systems.
Road blocks were in place while the unit was taken on its 20-minute journey from a new assembly shop in Bridge Road in Barrow to Devonshire Dock Hall.
The unit will form part of an Astute class nuclear-powered submarine.
The first three submarines of the seven-sub programme - HMS Astute, HMS Ambush and HMS Artful - are already in service.
Four more are in various stages of construction at Barrow - the Audacious, Anson, Agamemnon and Ajax.
Last month, it was announced BAE systems had been awarded a contract for a fifth submarine, taking the total value for work on the vessel to £1.3 billion.
The contract covers the design and remaining build, test and commissioning activities.
Manufacturing of the vessel began in 2010. HMS Anson is on schedule to begin sea trials in 2020.