Storm Desmond: Almost 10,000 people attend Cockermouth festival to support flood victims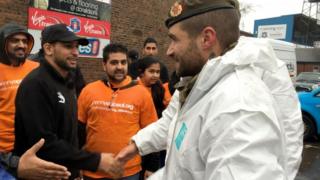 Almost 10,000 people braved heavy rain and road closures to attend a food festival and show support for Cumbria's flood victims.
Organisers of the Taste Festival in Cockermouth said the event usually attracted just 2,000 visitors.
Rain fell across large areas of northern England on Saturday, with a severe flood warning issued for St Michael's on Wyre, Lancashire.
The village had been hit by floods last week, with many residents evacuated.
Lancashire Police has advised householders to gather at a local pub while they "continue to assess the situation".
Work had been continuing to temporarily fix breached defences in the embankment of the River Wyre, but had to stop because of continued rain.
The Environment Agency said: "Due to the temporary nature of the repairs and increased river levels we are concerned about the stability of the embankment.
"Police and the fire brigade may need to evacuate residents for their safety."
The Met Office had issued a yellow " be aware" weather warning, and a spokesman said that although the forecaster was not expecting floods as severe as those seen last weekend it would not take "an awful lot of rain" for there to be a risk of rivers overflowing.
More than 75 flood warnings remain in place and 73 flood alerts.
Affected areas included large parts of East Lancashire and West Yorkshire.
Meanwhile Chancellor George Osborne has also promised a further £2m to help victims.
'Moral support'
Amir Khan visited Carlisle with charity workers on Saturday to hand out hot meals and toys.
Mr Khan, two-time world light welterweight champion, said his visit was part of a joint operation with his charity, the Amir Khan Foundation, and humanitarian charity Penny Appeal.
He said: "The UK community has been so supportive of me and this is just a small way I can give back.
"Once the flood water disappears, the hard work really starts, as families, most with children, return to severely-damaged homes and destroyed possessions."
He said he wanted to give people "moral support" through a tough time.
The Cumbria 2015 Flood Appeal, launched online on 5 December, has now reached £1m - a third of its target.
Chancellor George Osborne, meanwhile, has said an agreement to meet up to £1m of the cash generated by Cumbria Foundation's Flood Appeal will be increased to £2m and widened to include the Community Foundation for Lancashire's Flood Recovery Fund's Appeal.
He said: "The government is determined to stand by the communities affected by these devastating floods."
Darren Ennis, of CN Events, organiser of the Cockermouth's Taste Festival, said: "It has been an uplifting day - thousands have come despite the rain and cold. It's been rammed with visitors from all over the county.
"In times of adversity it proves the people of Cumbria have spirit."
It is the second time Cockermouth has been under water in recent years as it was badly affected by the 2009 storms.
Worst affected areas during Storm Desmond have included Carlisle, Keswick, Kendal, Cockermouth, Appleby, Glenridding and St Michael's in Lancashire.
Carlisle City Council said that from midnight busy, Warwick Road would be closed for seven hours for the emergency clearance of ruined furniture and other storm debris.
Local farmers have volunteered to help the council with the clear-up using their own tractors and trailers.
The Met Office said rain would finally clear on Saturday evening especially in Carlisle, but a severe frost was expected.
It is predicted rain in the county will be light on Sunday with hill snow later.