Storm Desmond: Rain causes further Cumbria flooding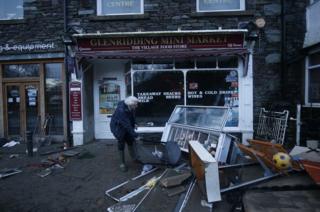 Heavy rain has brought more flooding and misery to the Cumbrian village of Glenridding, just four days after it was devastated by Storm Desmond.
Police, fire crews and mountain rescue teams spent the early hours of Thursday there after Glenridding Beck overspilled its banks.
Diggers were deployed in an effort to try to stem the swollen waters.
Cumbria Police has advised villagers to remain in their properties, even as the flood water begins to recede.
Residents were still clearing up after Storm Desmond hit the area at the weekend.
On Sunday, in the south of the county a couple had to battle through floodwater to get to hospital, where the woman gave birth to a boy, whom they gave the middle name of Noah.
Despite the Wednesday night flooding in Glenridding, one couple managed to tie the knot as planned.
Yvette and Simon Holden feared their wedding might not go ahead, but it was able to take place at the Inn on the Lake.
The couple, form Chorley, Lancashire, said they would spend their first day as husband and wife "doing what they could" to help residents.
Follow updates on Cumbria floods
Storm Desmond: Your questions answered
In Lancashire, residents from about 20 homes in St Michaels were moved to a nearby YMCA centre after the Environment Agency issued a severe flood warning.
Emergency services were working to bolster flood defences in the area and said water levels in the River Wyre peaked at about 09.30 GMT after heavy rainfall overnight.
In Cumbria, the A592 is closed between the Greenside Road junction in Glenridding and the B5320 junction in Pooley Bridge because of flooding. A diversion is in operation, but is reported to be about 50 miles long.
Elsewhere in the county, Carlisle remains divided because Eden Bridge is awaiting inspection by divers.
Groundsmen at Carlisle United's Brunton Park found three Koi Carp swimming in the goalmouth.
Labour leader Jeremy Corbyn visited the county on Thursday and was taken to Cockermouth by Workington MP Sue Hayman. He later travelled to Carlisle.
He said flood defences needed to be "funded correctly" and added politicians must "work out a policy" for helping people in flood-risk areas who could not afford insurance premiums.
He told reporters: "We obviously need better funded defences, they did help... but didn't stop it altogether. So cuts to flood programmes by government are not helpful."
Mark Hook described last night's peak as a "tsunami" that washed boulders weighing up to a tonne into Glenridding.
He said: "The power of the water was incredible."
The couple were given a matter of minutes to rescue as many of their belongings as possible from the ground floor as three feet of water poured through the back door.
Craig Brown, whose family runs a shop in Glenridding, said: "It's unbelievable really. We were just starting to get back to normal and then suddenly it hits you again.
"The shop has lost every single cabinet and most of the stock was damaged and now that's all gone because it was all outside sitting for the insurance company."
North West England floods
£500m
estimated cost of the damage
5,200 homes flooded

1,000 homes without electricity for up to four more days

50 miles of road diversions after latest Glenridding flood

1m (3ft) high water reported
Press Association
Jonathon Holdsworth, one of those involved in the rescue, said: "Within the space of I would say 40 minutes it became fairly torrential.
"It was difficult even standing up, which is why I think they'd set up ropes and a human chain at one point to help people across.
"Water when it gets beyond a certain depth will just take your feet away if you're not careful. It was terrifying to see."
Patterdale Mountain Rescue team, which is based close to Glenridding, said it answered 50 calls for help in 100 hours, including the rescue of a pregnant woman, transporting a heart attack patient and evacuating a care home in Appleby.
Patterdale parish councillor Dennis Henderson said: "I fear that we will get another flood because until the beck is properly excavated and re-engineered by the Environment Agency.
"I think we're going to be prone to these floods every time we get a prolonged wet spell."
The Met Office has issued a warning of further rain to come on Saturday. Heavy at times, it looks likely to persist until late in the day "with potential for some localised flooding of land, roads and properties, as well as some travel disruption".
Live flood warnings from the Environment Agency and the Scottish Environment Protection Agency
View the flood map by tapping on the image below