Morecambe Bay NHS Trust can leave special measures, CQC says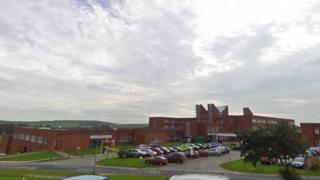 A previously failing NHS trust can be taken out of special measures, inspectors have ruled.
The Care Quality Commission (CQC) rated Morecambe Bay NHS Foundation Trust inadequate and in need of "intensive support" in June 2014.
But the inspectors have now boosted its rating to "requires improvement".
The trust, which runs Furness and Westmorland General Hospitals and the Royal Lancaster Infirmary, welcomed the recommendation.
See more on this story and other news on BBC Cumbria Live.
The decision on whether the trust should remain in special measures, which saw it receive extra support to improve, will now be made by the body responsible for foundation trusts, Monitor.
Prof Sir Mike Richards, the chief inspector of hospitals in England, said: "Since our last inspection changes have been made that give me, and more importantly local people, confidence that the services provided by the trust are improving.
"However, there is still work for the trust to do to ensure that people using its services consistently receive good quality care and treatment."
Sir Mike also said he was "satisfied" the trust was making progress to meet recommendations made by Dr Bill Kirkup following his inquiry into maternity services.
The CQC visited the hospitals in July and found more staff had been taken on although there was still an "unsustainable reliance" on agency workers.
Inspectors also noted a "bullying culture" in the paediatric service at Furness General Hospital and for some black and minority ethnic employees.
The CQC said the trust was working to address those issues.
Overall, the inspectors rated the quality of care provided by Furness General Hospital and the Royal Lancaster Infirmary as "requires improvement", while the Westmorland General Hospital was rated as good.
Jackie Daniel, chief executive of the trust, said: "I am very pleased the CQC has recognised the progress that has been made since our last inspection.
"But, we mustn't be complacent; we still have a lot of work to do to ensure we provide consistently high standards of care across all of our services."