Poppi Worthington death: 'Very worrying picture'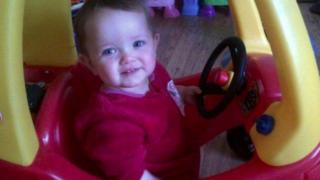 The sudden, unexplained death of a 13-month-old girl who may have suffered a sexual assault presented a "very, very worrying picture," a court has heard.
Poppi Worthington died after being found with a serious injury at her home in Barrow, Cumbria, in 2012.
Her father, Paul Worthington, 47, was later questioned on suspicion of sexual assault but never charged with any offence. He denies any wrongdoing.
A family court hearing in Liverpool has been reviewing the medical evidence.
It has been told Cumbria Police's investigation afterwards left a catalogue of failures.
No-one has ever been charged and the sudden death of the normally healthy youngster remains "unascertained".
'Astonishing incompetence'
The circumstances were kept secret by officials until the press took the matter to court, and Mr Justice Peter Jackson agreed that "as much information as possible" should be made public.
His report on the facts of the case was published for the first time on Wednesday.
It revealed what has been called "astonishing incompetence", showing how police failed to collect evidence, interview witnesses or question her parents, and only began to investigate nine months after the girl died.
Senior detectives in Cumbria thought a pathologist "may have jumped to conclusions" when she first raised suspicions about Poppi's injuries.
They decided not to investigate until the full post-mortem report was ready, but that was not finished until the following summer.
By that time the toddler's body had been released by the local coroner, Ian Smith, whose inquest into the "unexplained and possibly suspicious circumstances" around Poppi's death lasted just seven minutes.
Her body was buried in February 2013, precluding a further post-mortem examination. A second inquest has now been ordered by a senior judge.
Pathologists are still in dispute over whether Poppi suffered a sexual assault before her death.
The hearing was told that on admission to hospital on 12 December, 2012 the youngster was found to have an earlier fracture of her right lower leg and suspected acute injuries.
The hearing was adjourned until Monday.