Hairy Biker University of Cumbria honorary fellowship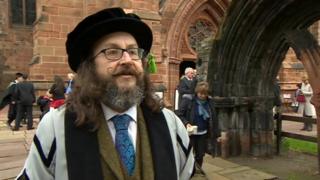 Dave Myers - one half of celebrity cooks The Hairy Bikers - has been awarded an honorary fellowship by the University of Cumbria.
The 58-year-old received it for his lifelong contribution to the media industry and his excellence in the culinary arts.
Myers, who was born and lives in Barrow joined hundreds of students at their graduation at Carlisle Cathedral.
Speaking outside the cathedral, he told the BBC he felt "very proud".
Alongside his Geordie friend and colleague Si King he has starred in several TV series and published a number of books.