Man cleared of killing six-week-old son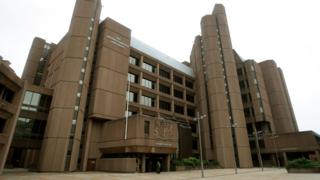 A father accused of killing his six-week-old son has been cleared of manslaughter.
Factory worker Craig Beattie was alleged to have lost his temper and shaken or hit Kye Kerr, while the child's mother was asleep upstairs.
The 33-year-old, who was living in Harraby, Carlisle, was arrested two years after the baby's death in July 2011 and charged in March 2015.
He was found not guilty by a jury at Liverpool Crown Court.
Kye was born eight weeks early and spent more than a month in the special care baby unit at the Cumberland Infirmary in Carlisle before going to the family home.
Just over a week later he was dead, with a fractured skull and bleeding on the brain and in his eyes caused by a "non-accidental" traumatic "shaking impact injury", the court heard.
The child's mother, Jodie Kerr, 26, was also arrested but not charged.
Ms Kerr told the jury Beattie, who declined to give evidence during the two week trial, roused her to say their son had an unexplained mark on his head.
She said she then peered at her son beside her own bed in his Moses basket, but he appeared already dead.
Paramedics were called and the child rushed to hospital but doctors could not revive him.