Windermere Jetty Museum: Work starts on £17m project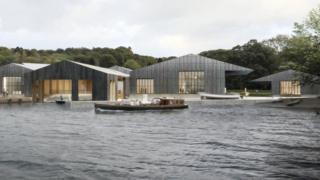 Work has started on a new museum housing some of the oldest surviving boats in the world.
"Windermere Jetty - Museum of Boats, Steam and Stories" in Cumbria's Lake District will cost £17m.
It will house vessels dating back to the 13th Century and what is reputed to be the world's oldest mechanically-powered boat, the SL Dolly.
Sourcing funds to build the museum has taken more than two years. It is expected to open in 2017.
Lakeland Arts has raised £16.7m, mostly from the Heritage Lottery Fund, but still needs a further £300,000.
Chief executive Gordon Watson said steam was "so emotive", although the museum would also house rowing, sailing and motor boats.
"They're beautiful boats, they're lovely pieces of craftsmanship," he said.
New facilities will allow vessels to be displayed on the water and some will take visitors on trips round the lake.
There will also be a conservation workshop.
The museum's collection of more than 40 vessels includes:
Two dugout boats dating from between 1200 and 1320 AD showing the earliest form of boat construction
Five yachts charting sailing on the lake from the 18th Century to late 20th Century
An 1870 Windermere ferry boat and copper ore barge
Other material including archives, photographs, paintings and costumes
Source: Lakeland Arts