South Walney Nature Reserve's first ever seal pup born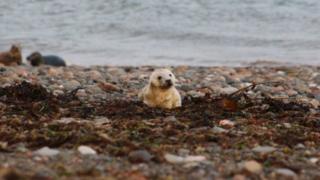 The first ever recorded grey seal pup has been born at a nature reserve in Cumbria.
The pup was discovered at South Walney Nature Reserve when marine trainees from Cumbria Wildlife Trust were conducting a seal survey.
Despite the animals using the protected beaches for decades, there has never been a pup recorded on Walney Island.
Trainee Sally Tapp said it was "wonderfully encouraging" to seen a sign that they were thriving.
'Extremely exciting'
During the 1970s and 1980s, seals were seen only singly around Walney Island - the only location in the North West where seals haul out onto the protected beach.
Now up to 100 can be seen on and around the island at certain times of the year, the trust said.
Miss Tapp said: "The pup was approximately three to four days old when we first spotted it. The mother is likely to be an inexperienced, first-time mum who regularly uses the beaches at South Walney as a haul-out site and has come back to pup here.
"This is extremely exciting as this female may now choose to come back here to pup again next year and if the pup is a female, she too may pup here in the future. We could well be seeing the establishment of a breeding colony on South Walney."
The trust said there was no access to the seal pup as due to its young age, it was "incredibly vulnerable" to disturbance.