North Cumbria hospitals to review patient transfers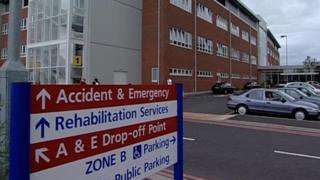 A review of the transfer of patients is to be carried out in Cumbria after claims lives are being put at risk by moving key services 40 miles.
Some medics at Whitehaven's West Cumberland Hospital have said moving services such as trauma care to Carlisle's Cumberland Infirmary could reduce a patient's chances of recovery.
North Cumbria University Hospitals NHS Trust refuted the allegations.
An audit of the patient transfer system will now be carried out.
Led by the Cumbria Clinical Commissioning Group, the review will involve independent clinicians and will be conducted over the next three months with the findings released early in 2016.
Additionally, a confidential hotline scheme will be introduced by the organisation to enable staff to report safety concerns.
'Raise concerns'
Some medics spoke anonymously to the BBC's Inside Out North East & Cumbria earlier this month and claimed that "patients have died because of the changes".
One described seeing a 90-year-old woman with a broken hip waiting "hours" for treatment, while another said morale was "at rock bottom".
Cumbria Clinical Group medical director David Rogers said any concerns about a patient safety should be raised through the proper channels at the trust.
"However, any member of staff who for whatever reason does not want to raise concerns through their own organisation, can contact a separate patient safety alert system being put in place."
When interviewed as part of the Inside Out investigation, Dr Jeremy Rushmer, medical director at the trust, said the transfer of services had resulted in better care and an improvement in mortality rates.