Cardboard recycling suspended after meat find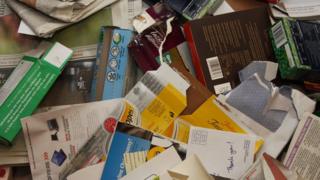 Cardboard recycling in part of Cumbria has been suspended after bins were contaminated with meat.
Copeland Council said that large quantities had been dumped in cardboard recycling units at two sites, along with plastic and other household waste.
It is now looking at ways stopping people abusing the service, including adapting the banks, which have larger apertures than some others.
Until it returns, people are asked to store their cardboard.
Janice Carrol, the council's waste and enforcement manager, said: "After people have spent time and effort to separate their recyclable waste and bring it to the centres, the irresponsible actions of a few people results in the materials being unfit for recycling.
"Due to the quantities of meat found dumped, our enforcement teams are now carrying out trade waste document checks in the problem areas."
"Out teams who visit food premises will also be checking how they dispose of their waste."