Debt-ridden Cumbria Police detective Tracy Taylor jailed for fraud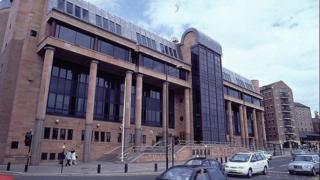 A debt-ridden police officer who indulged in expensive holidays and grouse shooting has been jailed for fraud.
Tracy Taylor, 43, from Irthington, near Carlisle, racked up more than £60,000 of debts and had an arrangement to pay back a proportion of that sum.
But Newcastle Crown Court heard she lied to creditors about her outgoings and holidayed in Italy and Gleneagles.
Taylor was given an eight-month prison sentence.
She admitted two charges of making a false representation and one of fraud, but denied two other charges.
On Thursday she was dismissed from her role as a detective constable with Cumbria Police for gross misconduct,
Luxury weekend
Taylor had claimed she was spending £595 a month on childcare and £595 a month on fuel due to a 40-mile (64km) daily trip.
But in fact the childcare for her six-year-old was costing her nothing, as the bill of £14 was being paid for by the police force, and her daily commute was just eight miles (13km).
Andrew Walker, prosecuting, told the court she rented out her house for £750 per month, earning £5,250, purchased a BMW for £9,000 and went on a two-week holiday to Italy.
Along with her husband Paul she also enjoyed a luxury weekend break at Gleneagles Hotel in Scotland, which included Michelin star food and a shooting day.
Other vacations the pair took included trips to Legoland and to Loch Lomond.
All of this was done despite telling her creditors the family only had a disposable income of £160 per month.
Mr Taylor denied five charges and was acquitted.