Michael Parry 'could not cope' with wife Meryl's dementia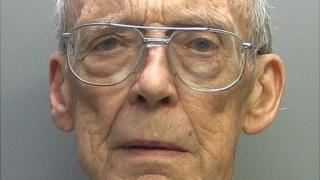 A man who killed his wife, who had dementia, and then himself, could no longer cope with the stress of caring for her, a doctor has told an inquest.
Former teacher Meryl Parry, 80, was found in bed with a pillow over her face at the Cumbrian home she shared with husband Michael, 81, in September
Mr Parry was later found dead in the River Eden, two days before he was due in court charged with her murder.
The couple's GP, Janice Royle, said he had grown "increasingly desperate".
The inquest heard Mr Parry was due to go into hospital for an operation and had failed to find suitable respite care for his wife.
Police and an ambulance were called to the couple's remote home in Ainstable, near Carlisle, on the evening of 2 September by Mr Parry.
His wife was found upstairs with a pillow covering her face and a plastic bag over her head.
A post-mortem examination later revealed Mrs Parry died from asphyxia and had also been given a large dose of sleeping pills.
The former university lecturer told police officers: "I'm amazed I could do it. I don't regret it. I definitely don't regret it."
He was found dead three months later while on bail.
Dr Royle told the hearing Mrs Parry's deteriorating state of mind had placed "great pressure" on her husband, who had health worries of his own.
She believed he had been acting in the best interests of his wife, but could no longer cope with the situation at home.
The couple's son, John Nicholas Parry, told the inquest: "It was devastating when this happened. It was a huge shock for me and for all the people who knew my parents.
"I think my father was a decent man who was trying to do his best to care for my mother and that was his main priority."
The inquest heard that on the day before Mrs Parry died her husband arranged for her to go to a care home, but because she had wandered out she was discharged and returned to him.
In evidence, Lorraine Rudd-Williams from Cumbria County Council, said the care home should have worked harder to accommodate Mrs Parry.
The inquest, is due to last four days.