Carlisle's Warwick Bridge corn mill Lottery grant boost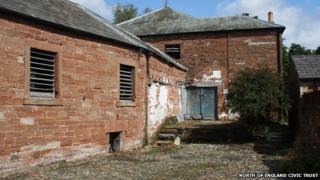 Plans to restore a "crumbling" Cumbrian corn mill have moved a step closer following a £1.4m grant.
The Grade II mill at Warwick Bridge, in Carlisle, has been part of village life since the 1840s, but its origins go back to medieval times.
The Heritage Lottery Fund has awarded the money to the North of England Civic Trust (NECT), which is carrying out the £2m project.
Part of the plan is to generate hydroelectricity at the site.
The project aims to restore the mill to full working order, allowing the nearby water course to turn its cogs for the first time in generations.
Graham Bell, director of NECT, said he first saw the potential of the crumbling mill in 2000, when he declared that it was an exceptional building and deserved a reprieve.
He said: "Most mills ceased working in the 19th or early 20th century so the machinery, which is the pulse of a mill, was renewed or removed and sold off.
"Here, we are in the nick of time to re-energise part of the nation's industrial heritage in the best possible way: by enabling it to earn its keep again."