Helvellyn deaths spark safety calls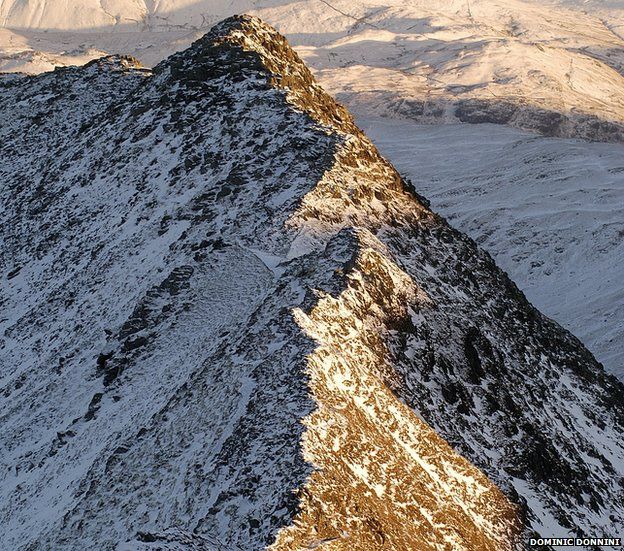 There are calls for safety measures to be introduced on Helvellyn, after the fifth death on the mountain this year.
During the latest incident, on Saturday, a man suffered fatal injuries when he fell from Striding Edge. It follows two deaths in January, one in February and another in April.
Helvellyn is popular with fell walkers but conditions at the summit can be treacherous, even in summer.
There were 11 deaths on peaks in the Lake District last year and 14 in 2013.
Suggestions for safety restrictions include allowing only guided walks and adding warning signage on main access routes.
With a 950m (3,117ft) summit, Helvellyn is England's third highest peak.
It is a popular year-round destination, but in winter there can be driving rain, snow drifts, and wind chill temperatures of -16C (3F).
Even in summer there can be poor visibility and a sharp drop in temperature at higher levels.
Fell walker Linda Howard-Bates said: "It's beautiful, it's enticing, but nature can be vicious and cruel, and you just have to put that in the foreground."
One of her friends - also an experienced walker - was a killed in a fall on Helvellyn.
She said: "No matter how careful you are there is always an element of danger.
"It should be possible to enforce some sort of guide system."
Patterdale Mountain Rescue Team is regularly called out to assist injured or lost walkers.
Its deputy leader Mike Rippon said: "The key to these deaths this year, I think, are the usual accidents like slips, trips and falls, which can never be prevented from happening.
"They happen in the workplace, they happen in day-to-day lives, but unfortunately in mountainous areas these can be fatal.
"We can't understand how a guide would prevent a trip or slip fall, to be fair."
Related Internet Links
The BBC is not responsible for the content of external sites.