Threlkeld Cricket Club back in the game after flooding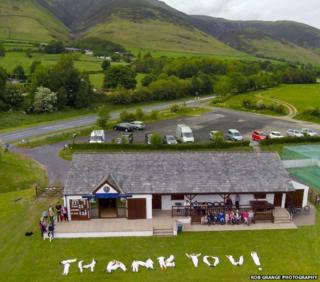 A cricket club in Cumbria has thanked all those who helped restore its pitch after it was destroyed by flooding.
In June 2012, an overflowing culvert deposited tons of rocks and silt across the playing field at Threlkeld Cricket Club, near Keswick.
It raised funds with a calendar showing games played in extreme situations.
There was also a loan from a charitable trust which can now be repaid after a settlement with Cumbria County Council, which owned the blocked culvert.
The undisclosed sum was the result of an out-of-court settlement, and the county council said it was glad the issue had been resolved.
The club also raised £50,000 from sales of its Extreme Cricket calendar, which showed team members playing in locations including in a slate mine, on a frozen tarn and underwater.
Threlkeld's ground was once named among the loveliest in England by the cricket "bible" Wisden.
Michael Webster, club treasurer, said: "I am just glad the whole thing is over and we are back playing cricket on our home ground.
"I can't tell you how proud I am that we have gone from staring at a pile of rubble and a feeling of utter distress to picking ourselves up, battling on and reinstating our stunning ground back to the way it should be."