1971 message in a bottle from Carlisle boy washes up in Scotland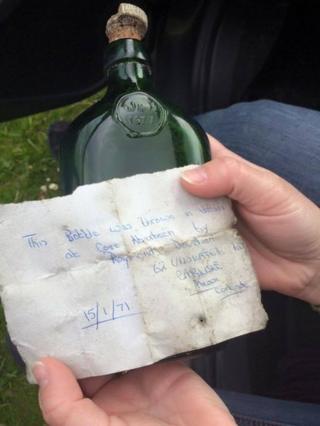 A message in a bottle has washed up 44 years after it was written by a Carlisle boy at the start of the 1970s.
Australian couple Sean and Shelley Thomas found it in a sand dune at Rattray Head on Scotland's north-east coast.
The note inside, written by then 14-year-old Raymond Davidson, is dated 15 January 1971.
The couple said it would be "wonderful" to track Mr Davidson down before they returned home to Brisbane on Sunday.
Mrs Thomas said: "We went for a walk along the sand dunes. It was just at the bottom of one of the sand dunes hidden under a couple of other bottles.
"My husband was having a bit of a poke around as he actually collects bottles and stuff at home, and we noticed that one of them had something inside it. We cracked it open and, there you go."
If he were still alive Mr Davidson would now be aged about 58.