Laughing gas stolen from Westmorland General Hospital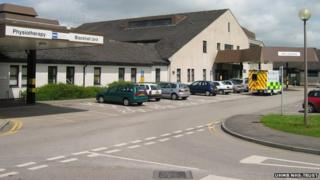 A number of cylinders of nitrous oxide, also known as laughing gas, have been stolen from a hospital in Cumbria.
Up to eight cylinders were taken on 9 June when raiders forced their way into a storage area at Westmorland General hospital, police said.
A force spokesman warned the gas could cause hallucinations or death.
The government wants to ban the sale of so-called legal highs, which would include nitrous oxide - also known as "hippy crack" - for human use.
Insp Paul Latham said: "People might think that inhaling laughing gas can be good fun, but it is no laughing matter.
"It can cause dizziness, hallucinations, headaches and even death through lack of oxygen.
"I'd warn anyone who may be in possession, or come into possession with this gas, to be aware of the potentially serious consequences."