Ullswater's first jetty in 50 years built at Aira Green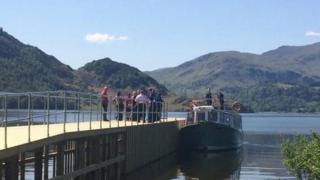 The first new jetty to be built on Ullswater in 50 years has opened allowing boats closer access to a tourist attraction.
The 150ft-long (46m) pier has been built at Aira Green, close to Aira Force waterfall which attracts about 250,000 visitors a year.
It means the Ullswater Steamer cruises can now drop off and pick up passengers close to the site.
The jetty has been built by the National Trust and Ullswater Steamers.
It is currently open to the public each weekend but from 1 July it can be used throughout the week.