Castle Rock warning over 'bungalow-sized' rock fall fears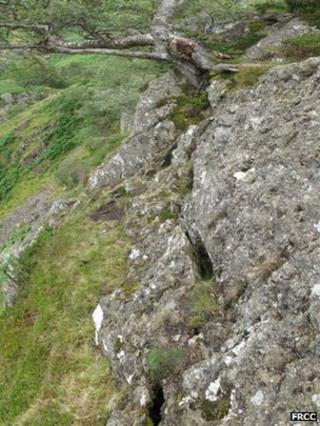 Climbers are being warned to avoid one of the Lake District's most famous crags because of fears a section of rock the size of a bungalow could fall.
A crack was first spotted at the top of Castle Rock in 2012 but is now showing signs of "major instability".
The Fell and Rock Climbing Club said the situation is a bit like "Russian roulette" with the rock expected to fall sooner rather than later.
The club said a minor earth tremor could cause it to collapse.
In May there were three earthquakes in Coniston, Dumfries and Morecambe Bay.
The climbing club said a chunk of rock the size of a small bungalow has shifted outwards about 3in (7cm) and runs horizontally across the top of the crag for a distance of about 22ft (7m) from the belay tree growing out of the top.
A gauge was in place measuring the movement, which is "progressively, continuously and rapidly" widening with quite a bit of loose debris falling into or out of it.
A warning sign has been placed at the 100ft-high site saying anyone who wishes to climb the rock does so at their "own risk".
The damage it could cause is unknown.
Climber Alan Hinkes said: "It has some classic moves on it... it's an extreme rock climb.
"People always aspire to do it but I wouldn't do it again. This crack has been getting bigger over the last few years, it's tragic really.
"It is sad because it is one of the best rock climbs in the Lakes but unfortunately that's what happens."