Copeland chooses Mike Starkie as first elected mayor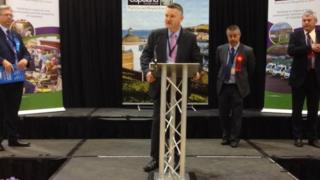 Independent candidate Mike Starkie has been voted in as Cumbria's first elected mayor.
Three candidates were running for the post of directly-elected mayor in the borough of Copeland - Conservative Chris Whiteside, Independent Mike Starkie and Steve Gibbons for Labour.
Local businessman Mr Starkie won with a majority of 974.
It was reported earlier 1,353 out of the 33,565 ballot papers submitted were spoiled.
The new role will replace the post of council leader, following a referendum last year.
Mr Starkie said: "The people have voted in numbers, the message is very clear for all the political parties.
"The people believe we are elected to serve them and to fight for them, not to fight with each other."
Conservative Mr Whiteside was eliminated from the first round of votes after he polled 9,509 (29%), compared to Mr Gibbons' 12,867 (40%) and Mr Starkie's 9,836 (31%).
As no candidate achieved more than 50%, a second preference count was carried out, with Mr Gibbons getting 14,259 votes and Mr Starkie 15,233.