St Bees boarding school to close after 400 years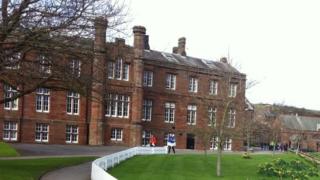 A 400-year-old boarding school in west Cumbria is to close its doors to pupils in the summer because of dwindling pupil numbers.
Governors at St Bees School, in the village of St Bees, said it had been struggling since the economy collapsed in 2008.
The independent school, which has 300 day and boarding pupils, will close at the end of the summer term.
Parents and staff have only just been told the news.
Head teacher James Davies said: "This is a desperately sad day for all of us.
"We have worked extremely hard to try to avoid this outcome, but what matters now is to ensure that our pupils and staff suffer as little as possible."
In a letter to parents, chairman Emeritus Professor Frank Woods, said: "The governors have considered every possible solution.
"They wish to acknowledge the untiring effort the headmaster and his team have put into our recent recruitment campaigns, both day and boarding.
"We also recognise the financial and other support the school has received from a number of sources - without that support it is likely that we would have reached this point much earlier."
He said the option of turning the school into a non-feeing paying one had been considered but was not "feasible".
The letter added: "We have concluded, however, that the only practical option left open to us is to close the school in as orderly and considerate a manner as possible."
It also said that declining pupil numbers and the school's remote location had not helped.
St Bees was founded by Archbishop of Canterbury Edmund Grindal in 1583.