Lake District's Stickle Tarn among seven areas for sale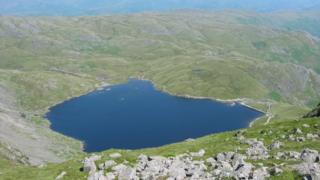 One of the Lake District's best known beauty spots is one of seven areas being sold off by park bosses.
Stickle Tarn, in the Langdale Pikes, is on the market with a guide price of between £20,000 and £30,000 by the Lake District National Park Authority.
A spokesman said the authority did not need to own the area to protect it.
Pete Kelly, who runs a business for open water swimmers in Ambleside, said he was hoping to get a consortium together to buy the area.
Mark Hoggar, from the authority, said the tarn would not necessarily go to the highest bidder, but to a buyer who would "care for and preserve it".
He also said the buyer would not be able to restrict public access.
The area, which covers a total of 24.2 acres (9.8 hectares) includes a strip of land around the water.
Mr Hoggar said the money raised from the sale would be reinvested into projects to conserve and protect the countryside.
He said: "The area is popular and superb with the public and we do not need to own it for it to be enjoyed."
Mr Kelly said: "We don't want to change the area - we want more people to appreciate it and know it is there."
A spokeswoman for the authority also said it only owned 4% of land in the Lake District and selling land off was not about making cash.
The sale will be by tender with a closing date of 12 March.
Potential buyers also have to fill in a questionnaire of their intentions and "aspirations for the future" of woodland on the land, the seller's website said.
A tarn is a mountain lake often formed by a glacier.
The other areas put up for sale include Yewbarrow Woods, north of Kendal, Blue Hill and Red Bank Wood, Ambleside, and Blea Brows at Coniston Water.
Also on the market are Ladywood, which overlooks Grasmere, Baneriggs Wood, also Grasmere, and a parcel of land next to the River Derwent at Portinscale village.