Cumberland Infirmary bans child visits over norovirus cases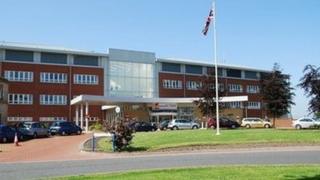 Children have been barred from visiting Cumberland Infirmary in Carlisle because of a norovirus outbreak.
North Cumbria University Hospitals NHS said outbreaks "had risen" and 12 wards at the hospital have patients with norovirus or its symptoms.
The trust said that with "immediate effect" children have been told not to visit the wards until further notice.
Medical director, Dr Jeremy Rushmer, appealed for people to only visit the hospital if "absolutely necessary".
The hospital was hit by the winter vomiting bug two weeks ago and appealed for help from visitors to "minimise the impact".
'Vulnerable patients'
However, on Friday the trust revealed numbers had risen.
The trust said the majority of adult inpatient, medical and surgical wards had been affected and visitors are limited to strictly two visitors per bed and next of kin only.
Exceptional visiting for children can be arranged by prior agreement with the ward manager, the trust said.
Dr Rushmer said: "We know that sometimes visitors feel they must take every opportunity to visit sick friends or relatives, but at this time we would ask everyone to think twice and stay away if at all possible.
"The more people who pass through our hospitals, the greater risk of the virus spreading and affecting more vulnerable patients and hospital staff."