Cumbria's burial grounds to be mapped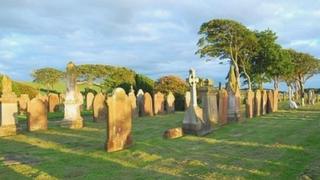 Maps of Cumbria's burial grounds are to be drawn up to help people find graves more easily.
The work will be carried out by Atlantic Geomatics, based near Penrith, following grants of more than £100,000.
Images taken by unmanned aerial vehicles will be combined with high-resolution photographs of headstones and handwritten records going back hundreds of years.
Dalston, in the north of Carlisle, will be the first parish to benefit.
Atlantic Geomatics said the maps would also show how much space remains to help local authorities plan for the future.
It aims to map "all the burial grounds in Cumbria during the next couple of years".
Tim Viney, Atlantic Geomatics managing director, developed the idea after struggling to find the grave of one of his parents.
He said: "At this stage the priority is to map burial plots in Cumbria and the North of England and to provide managers with the tools necessary to keep their maps and records up to date.
"We are investigating the most appropriate means to thereafter make the information available to everyone."
Funding has come from Innovus, which aims to help Cumbrian businesses develop new technologies.