Kendal Mountain Search and Rescue Team has busiest ever year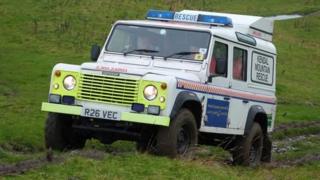 A Cumbrian mountain rescue team experienced its busiest ever year in 2014.
Kendal Mountain Search and Rescue Team responded to 58 callouts, from Cautley Spout in the east to the shores of Morecambe Bay.
Last year's record beat a previous high of 55 set in 2012.
Kath Jackson, deputy team leader, said the callouts had been a "bit like buses" with long quiet spells then several incidents at once.
She said: "The vast majority of people that we help are well equipped, responsibly enjoying the outdoors and have simply been unfortunate.
"We in the Kendal team, along with our mountain rescue colleagues across the Lake District and the country, work hard to ensure we are always ready to respond when we are needed, whether in the mountains or elsewhere."
The team provides a voluntary 24-hour service 365 days a year.