Whitehaven dip: Swimmers take part in New Year's Eve event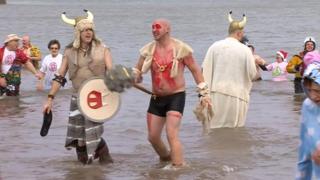 Up to 200 people have taken to the sea off Cumbria to raise cash for charity.
Organisers said the annual New Year's Eve dip into the Irish Sea at Whitehaven was expected to raise about £20,000 for a number of charities.
Those taking part in the event - now in its 18th year - have to put their head underwater as part of the rules.
Organiser Gary McKeating, of the Golden Sands Polar Bear Club, said he was "delighted" that so many had turned out for the event.