Flooded roads warning to Cumbria drivers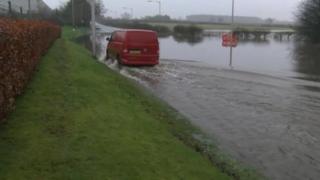 Heavy rain has been causing traffic problems across Cumbria.
Police said there have been more than 20 reports of flooded roads, with the Carlisle and Allerdale areas the worst affected.
They warned motorists not to risk their safety by driving through them.
The Environment Agency has issued flood alerts for the rivers Lowther and Eamont. There are fears strong winds combined with high tides could lead to a coastal surge.