Murder accused pensioner John Parry goes missing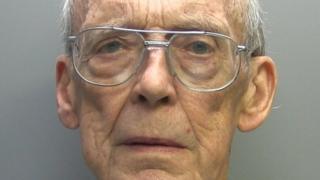 An 81-year-old man who is charged with murdering his wife has gone missing.
Police said John Parry was last seen near Roper Street in Penrith at about midnight on Monday. He is due to appear at Carlisle Crown Court on Friday.
He was charged after the body of Meryl Parry, 80, was found on 2 September at a house in Ainstable, near Carlisle.
Cumbria Police believe he might be in the Little Salkeld area. He was initially remanded in custody but granted bail in October due to his age.
He is described as white, slim, clean shaven with a pale complexion. He has thinning and receding white hair and blue eyes.