Blencathra purchase bid's progress 'slower than expected'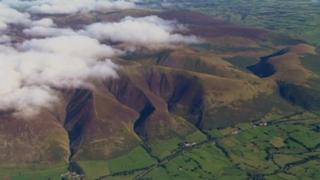 A community group that wants to buy a Lake District mountain has said progress on its bid is slower than expected, but it remains positive.
Friends of Blencathra bid for the peak in July after it was put up for sale by its owner to help settle a tax bill.
It appeared the group had lost out when the owner's agents announced Blencathra, also known as Saddleback, had gone to a rival bidder.
But H&H Land and Property later said negotiations were still ongoing.
The mountain was put on sale for £1.75m in May by the Earl of Lonsdale, Hugh Lowther, in an effort to raise money for an inheritance tax bill.
'Still the best deal'
Friends of Blencathra was formed and quickly gathered support and donations in its mission to bring the mountain into community ownership.
Five months after bidding closed, the group's lawyers are still in talks with the Lonsdale Estate. The initial aim was to have the deal agreed in 10 days.
Debbie Cosgrove, the group's chair, said she was still confident it would be successful.
"Progress obviously is a lot slower than we anticipated," she said. "But we're still in the game, all to play for.
"I know the trustees [of the Lonsdale Estate] have spoken to other people but I still think we are the best deal that there is available."
Ms Cosgrove believes the group has an advantage, because its charitable status means the sale would be exempt from capital gains tax.
She and her fellow activists have used the last five months to develop ideas for community initiatives to encourage people to visit the mountain.
These include working with local organisations such as the Blencathra Centre and the Calvert Trust to promote volunteering on the land.
Another idea is to create children's books based on the animals that live on the mountain, Ms Cosgrove said.
H&H Land and Property said no deal with any bidder had been finalised.